| | |
| --- | --- |
| Welcome | |

abc Telecommunications Inc. provides Information Broadcasting for business, schools and communities worldwide. We provide our clients with a valuable public relations and marketing tool allowing them to connect with callers in a productive manner.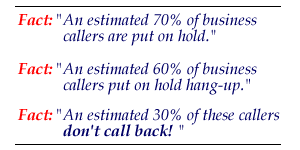 abc Telecommunications supports a strong customer service philosophy with a commitment to be a leader in service and quality. This is demonstrated through our solid growth, technological advancements and in-house development.
Our attitude is driven by our goal to be #1 in quality and in service. Our staff echoes this philosophy throughout their functions and interactions with clients. At abc our progressive attitude is exemplified in the following values:


Teamwork
Trust
Quality & Service
Communication & Feedback
Hard work & Commitment
Relationships with our clients
Accountability
Innovation
Our staff is our main asset and our reputation in the field of Information Systems is highly regarded and earned through those that represent abc Telecommunications. Our abc designed transmitter/receiver is state of the art and meets or exceeds industry standards. Our abc Production Department is skilled and knowledgeable and have many years of experience in the Broadcasting industry. We are committed to individual growth and personal pride.